ORAL MUCOSITIS IN HEAD & NECK CANCER PATIENTS
Oral Mucositis occurs in up to 80% of HNC irradiated patients!
What is oral mucositis (OM)?
Mucositis is the inflammation, ulceration and associated pain of the digestive tract.
The oral mucosa is especially vulnerable to chemotherapy and radiation with OM,
commonly impacting speech and swallowing negatively.
When does OM occur and how long does it last?
Mucositis is an acute response to chemotherapy & radiation typically occurring 5-10 days after treatment begins. It may last 6+ weeks.
OM Treatment & Management:
Basic oral care & hygiene

Avoid alcohol, smoking & irritating foods

Topical Pain Relievers (Orapeutic gel, Lidocaine, Benzedrine, Dyclonine HCl)

Supersaturated Calcium Phosphate Rinses (SalivaMax)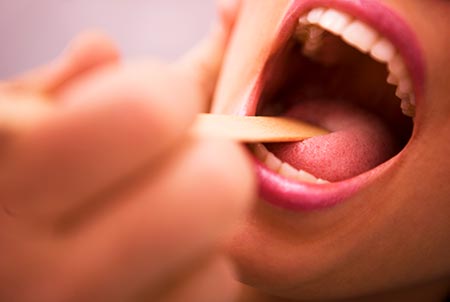 Complications of OM Include:

Oral pain

Limiting nutritional intake

Limit/interrupting treatment

Risk of increased infection, dysphagia
MUCOSITIS RELIEF
Use Individually or Together to Fight Mucositis & Xerostomia!
Part 1:
Relieve Pain, Protect Tissue
Non-Opiod Pain Reliever

All natural gel protects oral tissues and manages oral pain

Adheres to oral tissue, forming a protective barrier

Prevents initiation of pain signal

Maintains a moist wound environment
Clinically proven to reduce acute and chronic symptoms

Reintroduces and replenishes calcium and phosphate ions back into the mouth

Improves quality & quantity of saliva

Pre-treats radiation induced mucositis
Discover more about the OraStretch press and other products on our website, including an ordering guide,
prescription-order form, product comparisons, and clinical research at CranioRehab.com. Ordering is easy!
Complete and fax/email us our Rx-Order form. We will confirm insurance coverage, contact the patient.
Any questions or requests, please call us at 1-800-206-8381 or email us at [email protected].
*See website or contact us for more details.
OraStretch®, Salvate™, Helping People Say Ahhhhh!™ are trademarks of CranioMandibular Rehab, Inc. SalivaMax® and
Orapeutic™ are trademarks of Forward Science. Tongueometer™ is a trademark of E2 Scientific Corp.
TOP